Live a happier,
more productive life every day.
Create joy. Stay focused. Achieve your goals.
LEARN MORE
Special Holiday Offer
Buy One, Get One 50% Off!
For a limited time only, purchase a OneBook and receive a second OneBook for 50% off!
Start your 2020 off with Happiness and Productivity.
OneBook
The last journal you'll ever need
OneBook is the first journal built for every part of your day. 
Filled with innovative page designs
 to fit your every need, OneBook is designed to empower you to achieve your goals, stay focused on your priorities, and cultivate a positive perspective on your life.
Daily meditations? Productivity planner? Creative sketchpad? 
OneBook is the best journal you can take with you throughout your day to
revolutionize and transform your life. 
Product Details:
Width: 6 inches | Height: 8.5 inches
Page Size: A5 (148mmx210mm) (5.8inx8.3in)
Pages: 252
How OneBook is Different
Transform Your Mindset

OneBook helps you tie into the powerful daily habit of writing and reflection without forcing you into a pattern that can be rigid and uninspired. Our Morning Focus and Evening Reflection pages were designed to help you stay present, positive, and focused on your day.

Jumpstart Your Creativity

So many other notebooks and journals that are available want you to try to fit your entire life inside their rigid system. OneBook gives you space for free-writing, note-taking, and inspiration every day. Your ideas should be part of your story - and they can be with OneBook.

Achieve Your Goals

Our Daily Agenda page was fashioned after the productivity habits of some of the most impactful figures in history. It features a simple, but powerful structure for planning your day combined with the flexibility of a dot grid area for notes and ideas. OneBook helps you make your To-Do list a To-Done list.

All This in OneBook

You shouldn't have to use a different notebook for each part of your day. OneBook has the features of up to 5 different notebooks in 1. If you're using a Gratitude Journal, Day Planner, Bullet Journal, Ruled Notebook, or Evening Devotional, save money (and your back) by carrying all of them in OneBook. Transforming your life with OneBook costs less than 50¢ per day!
OneBook
Empowers change
without sacrificing
your freedom
The Science Behind Our Page Designs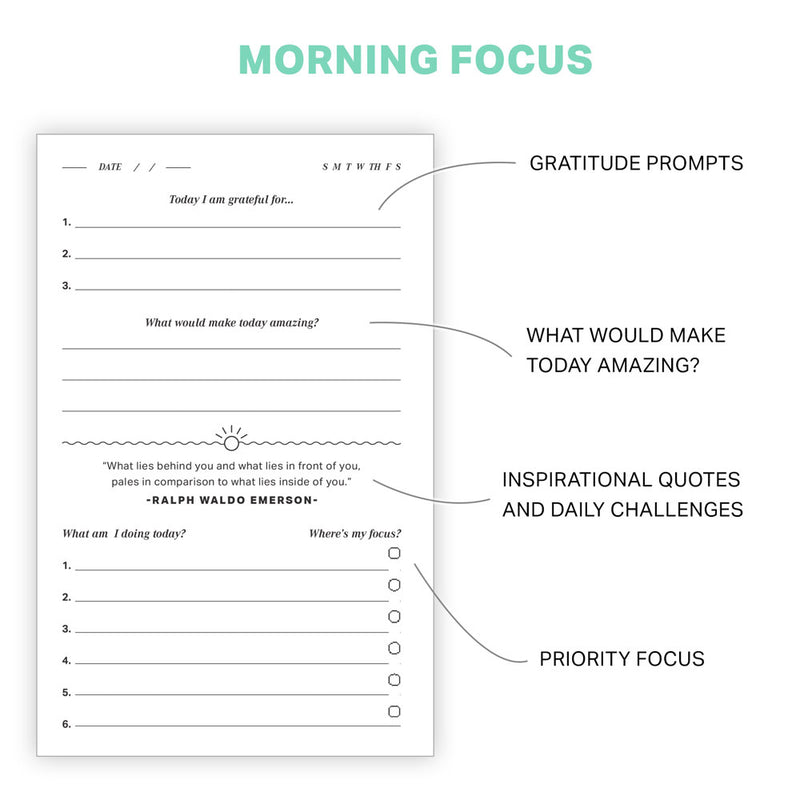 Start Your Day Present, Grateful, & Focused
Promote Wellness by Practicing Gratitude
Inspirational Quotes & Daily Challenges
Stay Focused on What's Important
Our Morning Focus page sets you up for a successful and fulfilling day. It begins by prompting you for things that you are grateful for. The benefits of practicing gratitudecannot be overstated - people who practice gratitude experience more positive emotions, have more fulfilling relationships, and are even physically healthier! Inspirational quotes & daily challenges empower you to face your day with a renewed energy. Finally, our Priority Focus section helps you organize and prioritize your activities for the day so you can focus on what's important.
"Starting my morning with gratitude has made a huge difference in the way that I face my day. I feel happier and more mindful!"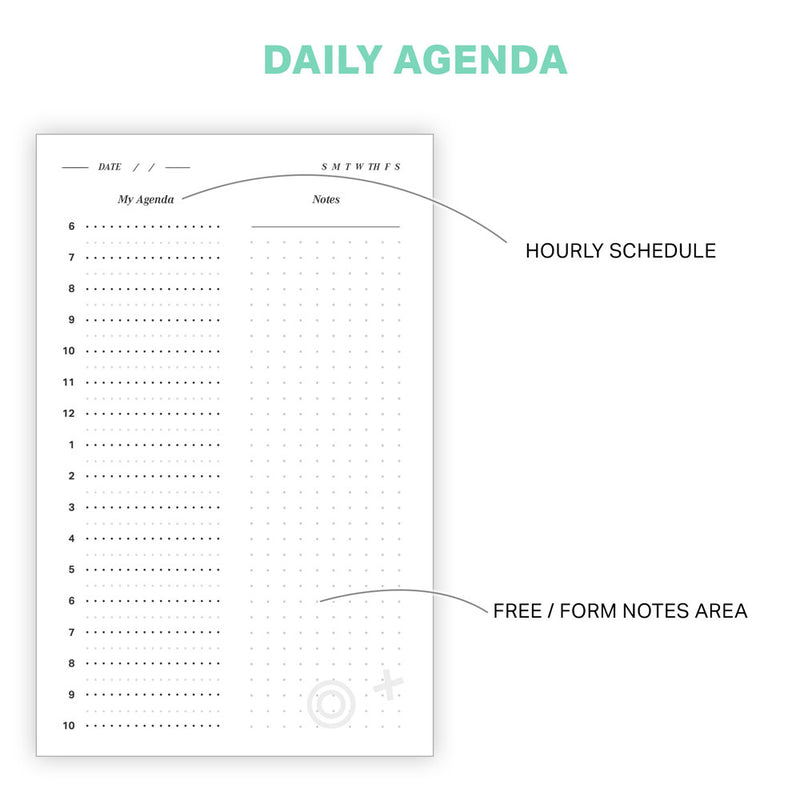 Conquer Your Day Like a Genius
Outline your entire day by the hour
Keep relevant notes with a Free/FORM notes area
Inspired by the daily planners of history's brightest minds
Our Daily Agenda page is not just another day planner - it's inspired by the schedules and notes kept by some of the most impactful figures in history, including Benjamin Franklin. Our Free/FORM notes area is aligned with your daily schedule to allow you to keep relevant notes, lists, and ideas throughout your day at the top of your mind. This empowers you to keep your day on track, accomplish your daily goals, and remember your most important thoughts and ideas.
"Being able to see my entire day with well organized notes has been a game-changer for me. I'm more productive AND I remember the most important items from my meetings."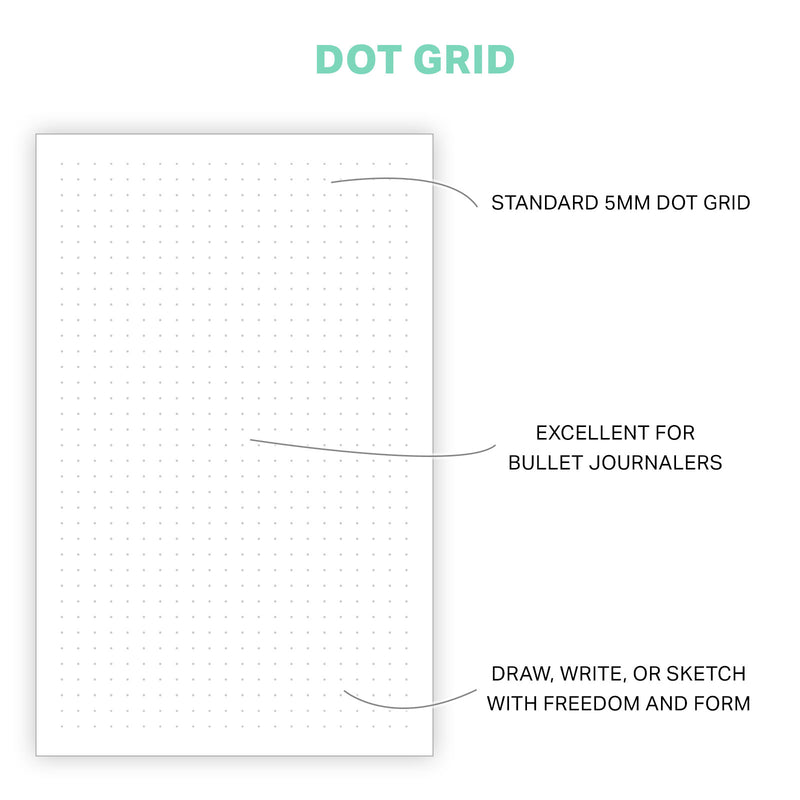 Inspiring Space for Your Ideas, Thoughts, & Notes
Standard 5mm dot grid paper provides the perfect balance of freedom and structure
Excellent for organizing your notes and ideas
Subtle dotted design allows you to create without boundaries
Whether your ideas come to you in the shape of lists, drawings, or free-writing, our free/FORM Dot Grid page will give you space to put your inspiration to paper. The subtle dotted structure gives you the option to freely sketch and design or use the grid to create well-organized lists, outlines, and wireframes. With OneBook, you'll always have space to exercise your creativity.
"I am so glad to FINALLY have a journal with prompts for mindfulness and free space for me to sketch designs and take notes. The dot grid page is a welcome addition to my daily notebook."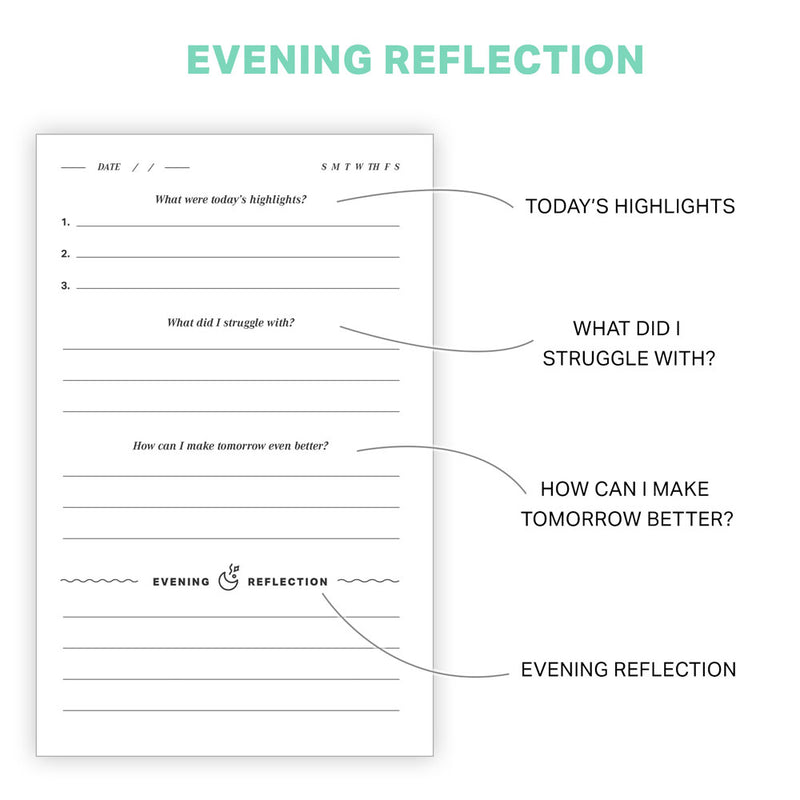 Room for Reflection Sets You Up for Success Tomorrow
Focus on the highlights of your day and cultivate fulfillment
Encourage growth and life transformation
Promotes happiness, productivity, and a healthy sense of perspective
The most important thing that you can do at the end of your day is reflect and prepare yourself for a successful day tomorrow. Our Evening Reflection page will help you meditate on your day's highlights, allowing you to gain a positive perspective on what happened. Evaluating your struggles and how you can make tomorrow an even bigger success will create a virtuous cycle of progress in your life. Lastly, putting any other meditations or thoughts in your evening reflection will help you process your day and prepare you for a restful and restoring night of sleep.
"Reflecting on my day allows me to process everything that happened in my life, envision how I might be able to make tomorrow even better, and put my mind in a restful state."

What Customers Are Saying
Download a Day FREE
Want to know what OneBook looks like inside? We'll email you a day of OneBook. Feel free to print out a copy (or ten) for yourself and give it a try!
OneBook
Helps you achieve
your goals without
boxing you in
4 Notebooks in 1
Why buy all of these when you only need OneBook?
Created out of necessity by 2 Entrepreneurs
Michael Shoup and Paul Shearer, partners at 12South Marketing, both found they were using multiple notebooks every day in very different ways.
Michael loved creative writing and reflection in the morning but desired a launchpad to constructively build from those ideas throughout the work day.
Paul loved jumping right into his daily focus, but disliked the constraint of most pre-built planners.
After years of carrying multiple notebooks all day, they created OneBook to be the perfect place for all their ideas, goals, and daily reflections.
OneBook - the last journal you'll ever need.
FAQ
How big is OneBook?
Here are the OneBook details:
Width: 6 inches • Height: 8.5 inches • Pages: 252 • Page Size: A5
Can I order a OneBook if I'm outside the United States?
Currently, we are only accepting orders for OneBook's shipped within the United States, however please message us if you're outside the US and would like a OneBook. International Shipping will be opening up shortly.
What if I don't like my OneBook when I receive it?
OneBook is backed by a 100% satisfaction guarantee. If you don't like your OneBook when you receive it, simply reply to your order email to let us know why, then ship your OneBook back to us for a full refund. Your OneBook must arrive unused for a full refund, and be returned within 30 days of the original shipping date.
How long does OneBook last?
Each OneBook is built with a series of 4 innovative page designs to fit your unique needs giving you 61 days of life transformation.
Motivation and Inspiration on Instagram
Use #onebookjournal for a chance to be featured